Benefits of Getting Braces as an Adult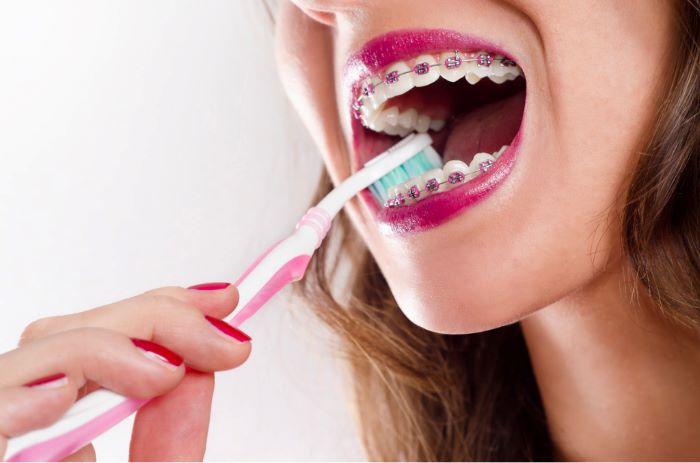 There is a common misconception that only tweens and teens can benefit from dental braces. Plenty of adults also benefit from braces in spite of the fact that few people aside from those who work in the field of orthodontics know it. Adults use braces to improve the look of their smile, enhance their oral hygiene and enjoy a potentially life-changing self-confidence boost. Let's take a closer look at the litany of benefits for adults who wear braces.
Braces Straighten Your Teeth and Do Plenty More
The aging process changes the shape of the jaw and the mouth. The jawbone loses its density as time progresses. This loss of density causes teeth to shift. The teeth have the potential to become crowded, causing discomfort and pain when eating. If your teeth overlap, cleaning them will prove difficult or even impossible. The failure to properly clean teeth causes dental decay.
The solution is braces that straighten the teeth and enhance the smile aesthetic, boost overarching oral health and uplift your confidence. Even if you are 50 years of age or older, each of the benefits of braces should appeal to you. So don't assume your age precludes you from enjoying the many benefits of braces. Meet with our orthodontist for an oral health exam and cleaning. Our orthodontist will determine if you can benefit from braces and whether you are a good candidate for this smile beautification solution.
Adults Have More Braces Options Than Most Assume
The myriad benefits of braces for adults are increased all the more as fully grown individuals are not limited to a specific type of braces. Metal braces are the most common variety for tweens and teens. However, adults have all sorts of additional orthodontic treatment options to straighten teeth. Invisalign aligners, braces positioned behind the teeth, porcelain braces, ceramic braces, and other options will be considered by the orthodontist before moving forward. So don't hesitate to pick the orthodontist's brain about the different types of orthodontic devices and which are optimal for your specific oral health and beauty challenges.
The Confidence You Need to be Yourself
You simply are not your true self if you are hesitant to interact with others, smile, laugh, and socialize without hesitation. It does not matter if you are in your 20s, 30s, 40s, 50s, or older - the look of your smile goes a long way in shaping your success in relationships and also your self-confidence. Straighten your teeth with braces and you will look that much more attractive, find it is easier to be yourself when around others and make a positive all-important first impression.
Success in interpersonal relationships is important regardless of your age. Whether you are looking for romance, a job promotion, a larger social circle or interpersonal success in other ways, a straight smile with properly spaced teeth resulting from the use of braces will certainly help.
Straighten Those Teeth Before a Major Life Event
If you are getting married, have a job interview, are seeking a promotion, or have another major life event on the horizon, straighten your teeth with braces. It will take around a year or so for braces to properly align your wayward teeth so plan ahead. Once braces move your teeth to the proper positions, you will smile wide and confidently for all the cameras or other onlookers on the big day.
Braces Have the Potential to Help with Health Issues
Braces might even help minimize the pain of health problems aside from those related to the mouth. As an example, those who wear braces and other orthodontics in their adult years sometimes report success in the treatment of obstructive sleep apnea and TMJ.
Teeth Continue to Shift Throughout the Aging Process
Most people assume teeth remain firmly in place unless physically struck by a wayward object such as a baseball or hockey puck. In reality, teeth gradually shift, especially if there is a gap between teeth that is not addressed. If your smile has shifted due to a lost tooth or the aging process, braces will straighten your teeth and help them achieve the proper spacing, so you look your best regardless of how old you are.
Braces can Improve Adults' Physical Health
Though it might seem hard to believe that braces have the potential to improve human health in ways aside from potentially boosting oral health and beauty, it is the truth. Braces and other orthodontic devices that straighten crooked teeth, properly align teeth with spacing problems, and prevent bite issues ultimately reducing the chances of accumulating an excessive buildup of food particles and plaque between the teeth.
Furthermore, adults who fail to obtain treatment for their oral health issues are that much more likely to suffer from earaches and headaches. Improper teeth spacing and crooked teeth also have the potential to make it difficult to chew your food as you should, causing gastrointestinal issues down the line. There is no sense in suffering through these health problems when you can prevent them with the use of braces during your adult years.
Braces Work Quickly Even for Adults
If you have heard it takes two to three years for braces to work, you have been misinformed. Braces typically work their magic in about a year and a half or slightly longer. The typical adult patient wears braces for a period of time between 15 months to two years. The length of time an adult wears braces depends on the type of braces selected, the level of tooth crookedness, and additional factors. Our orthodontist is here to tailor a treatment plan to your unique oral health and beauty needs so you can get all the benefits from braces in as little time as possible.
Schedule Your Appointment at OMG Smiles
If your teeth are crooked, improperly spaced, or flawed in another way, don't suffer in silence. Be proactive by reaching out to our team at (508) 348-7178. You can also request more information about our treatments and schedule a free exam online.
Please login to publish a comment.
Comments (0)